Golf Ball Markers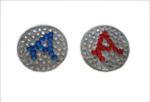 Beautiful shaped magnetic or not magnetic ball markers with Shining Crystals, make a fashionable and elegant accessory for the divot tools and hat clips.

In all colors (PMS color chart), printing, synthetic enamel, soft enamel, etc are available in one side or two side markers with your message or company logo.
Special kinds of two markers, one marker on another, are with customer design or logo.

Golf ball markers with a pin, with your message or company logo, is easy to put on the green and give you a clean modern style for a contemporary feel.
Plastic ball markers with pins come in all different colors as well as in translucent colors. Custom logo is personalized in one or two colors.